DRESSES TO WEAR TO HIDE A TUMMY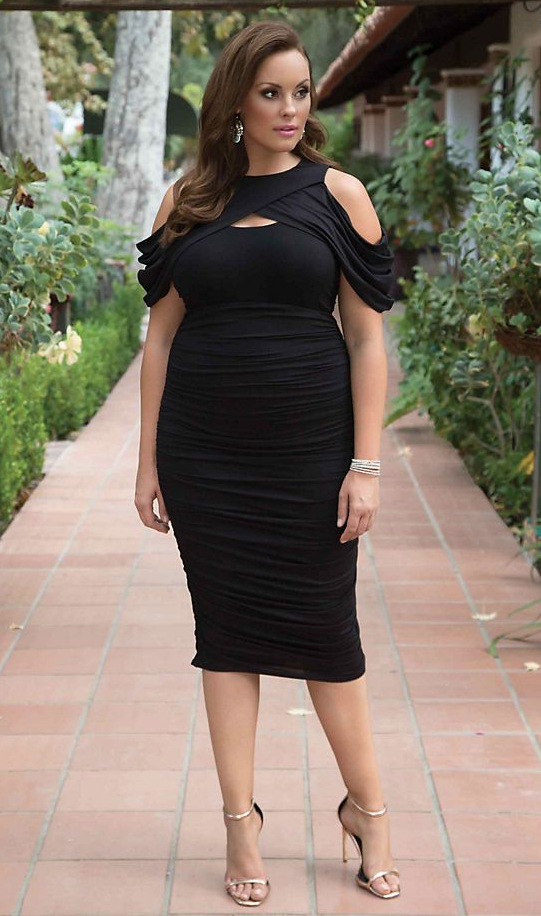 Do you have a bit of a stomach like me?  Perhaps more than a bit? Do you struggle finding a dress that hides your tummy? If this sounds familiar you aren't alone, shopping for dresses can feel like a nightmare. Some dresses can certainly be unforgiving when it comes to hiding a belly. However, there are many styles that do a great job at hiding the tummy.
Every lady out there at least once wondered how to hide belly fat in a dress? But not everyone has it. Now that we have it, we also must work with it and around it. Yes, you can wear anything you want. But if you really are not comfortable wearing clothes that give a peek-a-boo of your love handles, your tummy bubbles, then follow these tricks and tips in order to hide those love handles.
So, ladies, the first thing to do is to figure out how big your tummy is. Sure, it's not a lot of fun, but it will help you know exactly what styles will work for you personally and which ones won't. So, let's go through some really great dresses that do just that.
Secondly, the underwear you choose to go under your dress will make a huge difference to the way it looks. Even the best dresses to hide your tummy will work better with the right underwear.
However, there are plenty of dresses that you can wear that hide the belly without the need of shapewear.
So, if you are looking for an elegant dress that helps to conceal tummy, try out empire waist dresses. This dress cinches just under your bust rather than your natural waistline.  Incredibly good for petite and plus size women who want to redirect attention from their waist or hips to their bust. Although, some women report that the empire waist dresses make them look pregnant, while others find them the ultimate tummy hiding dress. Ladies, what work for one woman will not necessarily work for you, it's all about playing around with what works for you.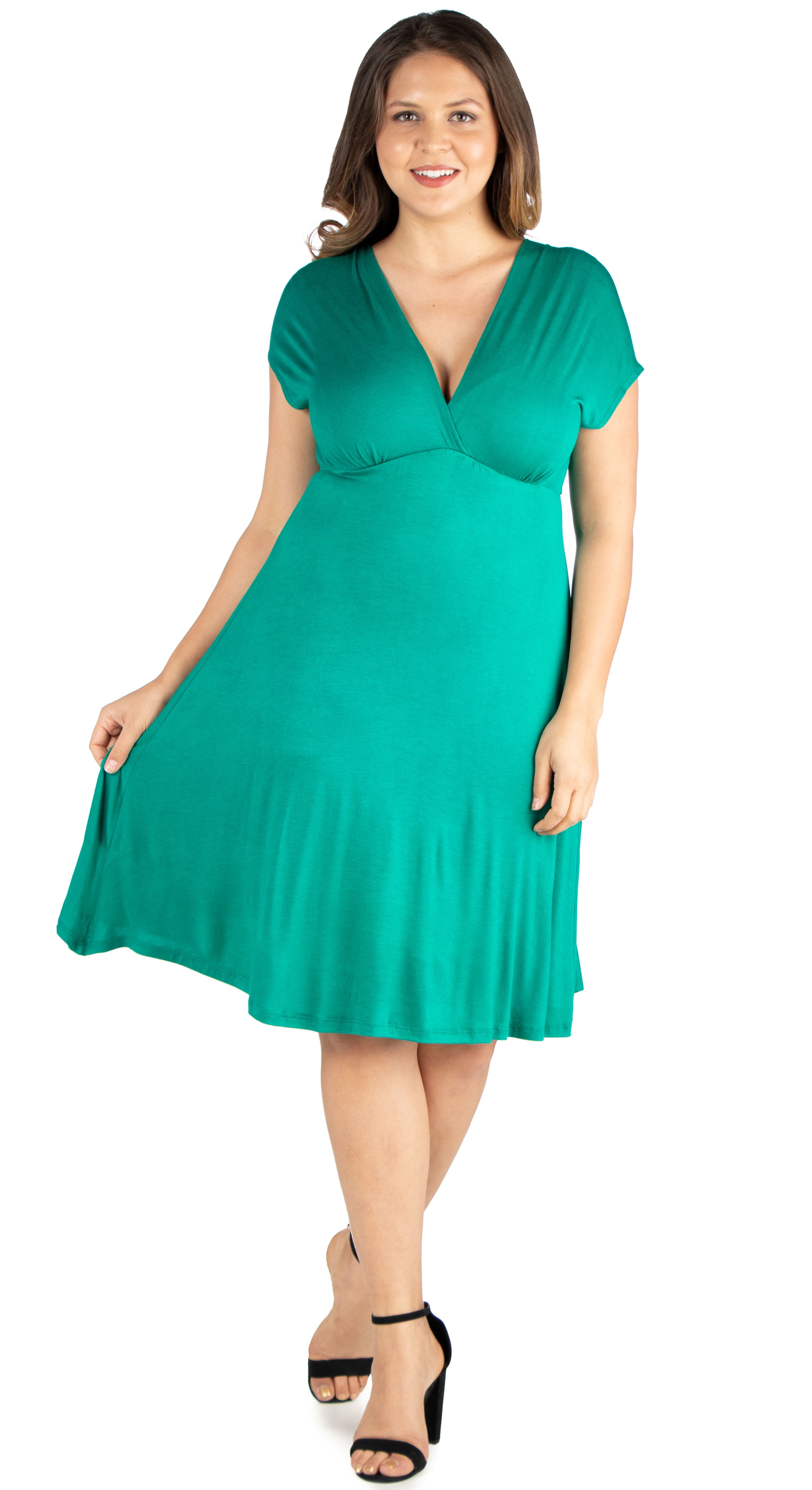 Also, one of the dresses that is so amazing at hiding belly fat is Ruffles or Frills, this are fun option for those who don't want emphasis on their tummy area. In addition to being nice and flowy, the ruffles on the dresses will help hide your belly even more. These dresses give off a fun and feminine vibe and would be perfect for any event. You can choose frills or ruffles which create a number of effects. You could, for example, draw attention away from your tummy by having ruffles on the arms. Just make sure, if you do, that the sleeveless doesn't fall at the same place as your belly. Or, you could find a dress which has a frill or ruffle drawing the eye upwards and downwards rather than the midsection.
Another beautiful dress is ruching, this is one of my favourite dress and its great at hiding belly fat, this dress is the ultimate illusionist when trying to conceal your tummy, so the eyes is gonna go to the soft flow of the fabric.  If you are keen on wearing tight-fitting dresses but don't want to bring any extra attention to your tummy area, then a ruched dress is the right choice for you, if you pick the right one. You want to go for dresses that have ruching around the waist for some added texture around that area. What happens is that the ruching will distract the eyes from your tummy and cover-up that area nicely.
So, let's talk about Wrap dress, wrap dress is by far the most flattering style for all body types, its elegant and offers a cozy feel around the hips and stomach area. This lovely dress shows off your neckline, bust area, and waist. Also, it brings all the focus to your waistline while removing attention away from your belly. The extra fabric helps to conceal your tummy and highlight your waist creating the illusion of a slimmer tummy. Of course, a great tummy support garment underneath gives extra help to keep things smooth and flat.
Another goeguoes tip is to choose dress with Patterns and vertical line, it's a good way to hide belly fat because the busyness of the pattern does not allow the eyes to focus on your belly area, instead the eyes will pick up all the detail in the shirt. So, don't shy away from prints & patterns, wearing print is also an easy way to inject vibrant colours into your wardrobe. Also, wearing dresses with vertical lines will help you to appear slimmer. And the elongation of the line stretches you and makes you look leaner. While a horizontal line will make you look wide. So you want to keep away from dress with horizontal line most especially at the tummy area.
Another simple style trick that can easily hide a tummy and show off your beautiful fashion sense is wearing Pleated dress they can cleverly draw attention away from your tummy, pleated dresses have a lot of advantages. they are not only pretty, but they have the added benefit of not clinging to your body.  And the pleats or vertical lines will also streamline your shape, making you look taller and leaner.
You can also try a dress with asymmetrical elements, it's a great way to draw the attention away from your belly, asymmetry helps you to create vertical and diagonal lines, giving you a slimming illusion. And ladies, it all depends on how much of a belly you feel you need to hide; you can opt for a dress which is more fitted or loose. Even if you don't want to downplay your tummy but another area of your body, you should consider adding asymmetrical pieces to your wardrobe.
And lastly, dress with Confidence
Choosing dresses that hide your belly isn't as hard as it may seem. With a little practice and some trial and error, you will eventually learn about your body and which dresses are most flattering for you. No matter which dress you decide to wear however, the most important thing to remember is to carry yourself with confidence. How you carry yourself will affect how others perceive you and how you perceive yourself. So be confident in whatever you are wearing, and others will take notice and focus on that and not your belly! And my advice for you ladies if you can't tone it, learn how to hide it.
Best of Luck